"From the wildness of my wasted passion I had Struck a better, clearer song, Lit some lighter light of freer freedom, battled With some Hydra-headed wrong." - Oscar Wilde   Katie has lived in New York for the past 10 years, and so considers herself officially a native. While her day job is as Associate Creative Director at a healthcare technology company, she'd be perfectly happy spending  all of her time creating meticulously hand-embroidered gifts for friends and family and becoming one with the beach on Nantucket. Her favorite Couplet Collection piece is the Les Perles Signet set with green and...
---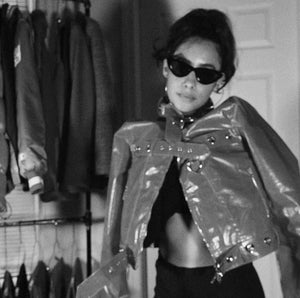 "Real eyes, realize, real lies." - Tupac  This New York visual artist wears her Les Yeux evil eye charm around her neck to keep her spirit guides close to heart.  Shop the charm
---
---
Email info@couplet.org with your favorite couplet & your favorite piece from our Couplet Collections for a chance to be featured as our next Couplet girl!